Catching Coho Salmon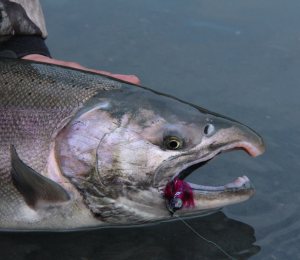 Casting For Salmon (Coho) 
If coho are tucked tight to shore, then the best approach is casting from the bank. Be sure to cast beyond the fish and reel just fast enough to get the plug within a few inches of the bottom, without getting hung in the rocks.
My favorite all-around plug for casting for cohos is the Mag Lip 4.5. The 3.5 size also works wonders, and last fall I heard of many people loving the 3.0 for casting in smaller, clear, coastal streams. Wrap the Mag Lip with herring, sardine or anchovy, and the presentation gets even better
There is no place in the world to fish for Salmon like Lake Michigan. Come spring, and anglers all over the country come to catch these brawlers.
April Fool's Day can be great to start your Salmon season. Salmon come into shallow water to feed. You can find them in 10 to 30 feet of water without having to go far offshore!
A typical April catch would be over two dozens of fish, both Coho "Silver" and Chinook "King" Salmon.  You can test the waters anywhere from Grand Haven to  St. Joseph and Ludington to Muskegon.
The steady bite and non-stop action both nearshore and offshore continue through May. The Coho's bite slows down in June but only to return in August. King Salmon can also be caught in good numbers in mid-summer.
In late summer and early fall, Salmon come to harbors and ports to chill before they move upstream. The best thing for those who want to catch pre-spawning Kings and Cohos is that you don't have to travel too far out!
Of all the casting approaches there are for coho, perhaps nothing is as versatile as tossing lures. Due to the size-range of lures on the market, and the speed at which different designs can be fished, there's not much water a lure can't be fished in. If fishing fast currents or deep holes, a 3/4 ounce to 1 ounce lure works well. In more shallow, slow moving water, downsize to a 3/8 ounce jig. Keep in mind, coho aren't shy of big lures, so the only reason I downsize to smaller presentations is to prevent hanging up on the bottom.
A favorite lure of most coho anglers is one that offers the most movement, specifically, skirted models. The Coho Bolo has been a standby for years, and the highly popular 1/2 ounce Flash-Glo Casting spinner with the squid skirt and large beads, is a favorite of many. Flash-Glo spinners come with a treble hook and a siwash hook, and are easy to change out in fisheries requiring a single hook. The original Rooster Tail is also tough to beat when it comes to coho, and the range of sizes, all the way up to 1 ounce, allow a lot of different water types to be covered.
As for lure color, start with pink and end with pink. Anything pink works best for coho. Invest in a variety of pink colors, from bright to light. Chartreuse and orange can also produce, but overall, pink is the go-to color wherever coho are fished.
TROLLING FOR SALMON

If you have ever tried to attach your line to a freight train, you will easily understand what King Salmon fishing is like. Chinooks are ferocious fighters and landing them is rewarding.
Coho Salmon are not as aggressive, but don't take out word for it!
To land your own Salmon, you can troll the lake with artificial bait and wait for the strike. It's great to have different combinations of baits and lures real to go. If you have multiple lines in the water, mix up colors and lures to know what color Salmon are more attracted to.
Trolling with planer boards is an effective tactic for spring ice out coho fishing.
Be flexible and don't be afraid to change your fishing grounds. Choose the right spoon to catch more fish, basing your choice on color, size, and action.
Choosing a professional and knowledgeable captain for your Lake Michigan Salmon fishing is one of the most important parts of a successful trip. It makes all the difference since the local guides know the patterns and behavior of the fish. They will make sure you don't hoarse your catch on the boat but bring it slowly. After all, it can get your weekly dinners sorted out!
Last fall marked one of the best coho runs along the Pacific Coast in many years. This fall is predicted to be every bit as good. Many anglers target coho in bays and estuaries during the month of August, then forget about them. But if looking for a change of pace from fall Chinook fishing, or if awaiting the arrival of winter steel head, traveling to tributaries to target coho can be just what you're
after.
From Alaska to Oregon, I've had the good fortune of pursuing coho in many settings. While there are multiple ways to fish for them, my favorite is casting various setups. In past articles in STS, I've detailed trolling setups and float-fishing techniques for silver salmon, but this time we're going to take a look at some of my favorite casting presentations. Pound for pound, coho are one of the hardest fighting salmon out there, and catching for them by casting minimal gear takes the thrill to a different level.
The great thing about the following approaches, they can be achieved from the bank or from a boat, all season long.Casting Plugs
When talk of plug fishing for coho comes up, most minds turn to back trolling. While back  trolling flat lined plugs for coho works well, casting can be even better.
Because coho occupy such a variety of water types, they can be difficult to fish for. While coho will travel through fast flowing water–fast enough to back troll plugs through–they routinely hold in slack water. Coho are notorious for staging in the mouths of rivers and small streams, even in lakes and sloughs, where the current is virtually nonexistent. Some of these slack holding waters may be only a few feet deep, some more than 30 feet deep.
Coho will also hold on the inside corner of river bends. Some of this water can also be very shallow, meaning plugs may not be the best option. But if there's any depth to these inside corners, especially in the form of ledges where coho might stack-up, then tossing plugs can be very effective. Even if it's three feet deep, a plug can be worked slowly.
If casting from a boat, try getting the plug to land well beyond where the fish are holding. By the time the plug reaches it's fishing depth, a depth achieved by reeling since most plugs float, you want to be in the thick of the school. Casting into shallow water and retrieving into deeper water is not always the best option, for if coho are gathered tight to shore, the plug may pass over them before reaching the desired depth.
Some of the best plug casting from a boat occurs in deep, slow moving water. This allows a lot of prime water to be covered, and in deeper waters, coho are more receptive to travel long distances to attack.
DRIFT FISHING FOR SALMON

Drift fishing for coho is an approach that's fallen off in popularity in recent years, but it's still very effective. In drift fishing, target coho where you would steel head and chinook in rifles, chutes and faster flowing currents. The edges of seams are a great place to hit, as are the edges of eddies and swirls where coho often hold.
Cured eggs are a favorite bait for coho, but be sure and top them with a drift float. While many anglers think drift floats  are strictly for adding color, the big benefit in coho fishing is their ability to float your bait. The added buoyancy will lift the bait off the bottom, allowing it to move around in the current. Not only does this added movement increase the amount of scent released from the cured eggs, it also increases the presentation's visibility.
In spring, just after ice-out, is the best time to fish the shallows for coho salmon. Using the methods above will just about guarantee a limit of the tasty devils. Get out there and give it a try. You will not be disappointed !
Thanks for looking…..Good Luck!