COHO SALMON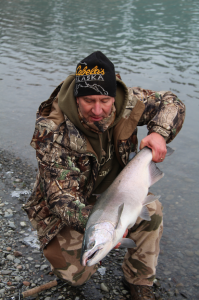 April 5th Indiana Report:
4/5 Launched out of East Chicago 2:30p. Trolled the wall to the corner and to the break wall by Buffington Harbor. Two limits of coho by 6:30p. Mid-sized crank/red color were hot. One fish on orange dodger/fly.
4/6 Set lines at Gary Light at 530 am and picked up 3 coho on red cranks quick and then shut down until picking up a 4th just east of Buffington. (Socked in by fog for a couple hours and couldn't run, thus the troll back west.)
Once the fog lifted late morning, went to the gap outside Calumet Park and marked bait and fish. In short order, finished with total of 9 coho on red cranks and released 7 nice lakers 30-36″ caught on riggers on the bottom with Carmel Dolphin spoon 20-30′ back.
4/7 Set lines inside gap at Calumet Park at 7:30a, pulled at 10:30a. 2 for 4 coho on red cranks/planers and 5 for 6 lakers using Carmel Dolphin spoon and trashcan dodger/silver fly on riggers.
Coho trend seemed to be decreasing action, and size of fish, throughout the weekend.
Good.luck. Be safe.
Just after the ice is out in late Winter, and the waters of southern Lake Michigan warm up,  thousands of  Salmon fisherman swarm to the ports of Indiana to troll the shore lines for the "Wild One!, "  too experience  more fun, excitement and confusion than a power outage at a three ring surface!  Fishing rods go off two and three at a time. Anglers holler, "fish on" while passing rods over and under each other to avoid tangles! If everything goes right, the result is a cooler full of good eating silver bullets. When things go wrong and the Cohos succeed in making shambles of everyone's tackle, the boat can look like a set from a Three Stooges movie. Coho  fishing is like that!
Spring is the time of year to get those planer boards  and flat lines ready for action!
In spring, the 'Wild One's" are coming off a winter fast and begin to increase their feeding range and activity. Once the ice breaks up trolling is superb! It's the best time of the year for small boat ownershttps://fishingtech101.com/salmons-public-enemy-1/ to limit out on coho. Chinook, stealhead and some brown's will also be around.  Often the secret to catching fish is to fish near the surface. Here the salmon find warmer water and baitfish . Although the water temperature is below the peak activity range for salmon (45-54 degrees) to feed, the fish sense the warming trend and become aggressive. High-flat lines and planer boards are the way to go for fast ice-out salmon action…..Small Great Lakes trolling flies w/flashers and  fish imitation lures like floating Rapalas work great! I recommend a slower trolling speed than used during summer months. The waters that warm the quickest will hold maurading salmons searching for baitfish.  Coho Salmon strike savagely! On days when the lake is alive with baitfish, feeding gulls and coho chasing lunch, the action lasts up to an hour and if you are fishing when the frenzy occurs, the action is unmatched! The salmon will gorge themselves on baitfish and a few of the crippled ones will swim to the surface. This attracts Sea Gulls, and is a pretty good bet that the salmon are nearby. Savvy lake Michigan trollers know that salmon are not in hugh schools during spring. So, it is important to cover a lot of water while trolling in an effort to intercept scattered pockets of fish. Once lake surface temperatures warm to the 60′s, salmon will migrate to deeper water and form small schools.  This usually begins in late May. The fish are still feeding but they are mostly found suspended over cooler water. This is when downriggers and deep water planers work well. Lead line has become a super producer, as well…..
Pastricks….. East Chicago Marina In Indiana is perhaps the most productive port just after ice out:
Most trollers set lines out as soon as they leave the marina. The Inland Wall holds many fish. Watch for the "First Light", "Second Light", and then "the Hole in the Wall". These are all prime areas. Around the corner to the west is the Shoals. It can get bumpy out there. West of the Shoals is the Shipping Canal which is great spring time fishing. To the east is Buffington Harbor. It's well protected. Further east, you'll go past Dean Mitchell, US Steel, and finally Gary Light. These are all great Salmon areas…..If Perch fishing is your thing, the 50 foot deep water outside Gary Light holds lots of monster Perch in spring and fall.
Here again, this port warms up early just after ice out!  This port can be fished all season, with many trophy sized salmon and trout taken every year. This port gets to be kinda busy, but the launches and ramps are in good shape, and well worth the wait….Just outside the ramp is the famous Wall! This is where flat lines and planer boards are super effective, and you can expect action on most days. In early Spring, a two & three man limit is often achieved before noon. Expect a mixed bag of 2-3 pound Coho, 7-13 pound Steelhead and some nice sized Brown trout. This port and the Hammond port are  my best shots in the spring, as they are within an hours drive from my home. When the water warms up…..Limits of Coho and Steelhead are common. If you only have an Illinois Salmon licence, a"Hot Spot" is the warm water discharges out of the 95th St Calumet Park, just S/E of the boat launch.
Wind speed and direction are super important in early spring!
As usual west winds are best, as you will be protected by the shoreline and have calm waters. South, southwest and even northwest winds are productive, also. Light north and northwest winds are ok as well, if they are not too strong.  In most cases, east winds are generally not productive….. take a pass! Instead,  if the ice is out, take a ride to Michigan City…..It  can be a decent bet if there are light east or northeast winds. Use flatlines and planer boards at the warm water near the shorelines and at the mouth of the river…..
Coho, also called "silvers" or "silver salmon," are another species of Pacific Salmon found in King County. Coho often spawn in the smaller streams and don't tend to use the larger rivers like chinook. Because spawning coho can be red in color, similar in size, and spawn or travel though the same streams, they can sometimes be confused with sockeye.
Shore fishing this time of year is as effective as fishing from a boat:
Some days when the wind is too heavy for trolling, give it a try from shore.
Last fall marked one of the best coho runs along the Pacific Coast in many years. This fall is predicted to be every bit as good. Many anglers target coho in bays and estuaries during the month of August, then forget about them. But if looking for a change of pace from fall chinook fishing, or if awaiting the arrival of winter steel head, traveling to tributaries to target coho can be just what you're
after.
From Alaska to Oregon, I've had the good fortune of pursuing coho in many settings. While there are multiple ways to fish for them, my favorite is casting various setups. In past articles in STS, I've detailed trolling setups and float-fishing techniques for silver salmon, but this time we're going to take a look at some of my favorite casting presentations. Pound for pound, coho are one of the hardest fighting salmonids out there, and catching them by casting minimal gear takes the thrill to a different level.
The great thing about the following approaches, they can be achieved from the bank or from a boat, all season long.Casting Plugs
When talk of plug fishing for coho comes up, most minds turn to back trolling. While backtrolling flatlined plugs for coho works well, casting can be even better.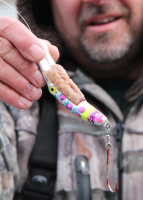 Because coho occupy such a variety of water types, they can be difficult to fish for. While coho will travel through fast flowing water–fast enough to backtroll plugs through–they routinely hold in slack water. Coho are notorious for staging in the mouths of rivers and small streams, even in lakes and sloughs, where the current is virtually nonexistent. Some of these slack holding waters may be only a few feet deep, some more than 30 feet deep.
Coho will also hold on the inside corner of river bends. Some of this water can also be very shallow, meaning plugs may not be the best option. But if there's any depth to these inside corners, especially in the form of ledges where coho might stack-up, then tossing plugs can be very effective. Even if it's three feet deep, a plug can be worked slowly.
If casting from a boat, try getting the plug to land well beyond where the fish are holding. By the time the plug reaches it's fishing depth, a depth achieved by reeling since most plugs float, you want to be in the thick of the school. Casting into shallow water and retrieving into deeper water is not always the best option, for if coho are gathered tight to shore, the plug may pass over them before reaching the desired depth.
Some of the best plug casting from a boat occurs in deep, slow moving water. This allows a lot of prime water to be covered, and in deeper waters, coho are more receptive to travel long distances to attack.
If coho are tucked tight to shore, then the best approach is casting from the bank. Be sure to cast beyond the fish and reel just fast enough to get the plug within a few inches of the bottom, without getting hung in the rocks.
My favorite all-around plug for casting for cohos is the Mag Lip 4.5. The 3.5 size also works wonders, and last fall I heard of many people loving the 3.0 for casting in smaller, clear, coastal streams. Wrap the Mag Lip with herring, sardine or anchovy, and the presentation gets even better.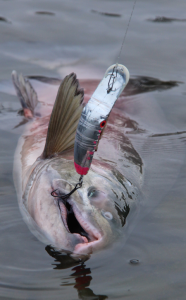 While fishing the Kenai River last Halloween with well-known, local guide, Mike Fenton (www.fentonbrosfishing.com), he introduced me to how effective wrapped plugs can be when targeting coho. "These coho love scents, just like the kings do," Mike pointed out. "But the key to a good casting wrap is making sure the fillet stays in place through all the casting and retrieving," he shares while putting multiple wraps on a plug with his bulk thread spool.
The 4.5 Mag Lip is also Mike's favorite casting plug. Coho are so tenacious, this is not too big of a plug by any means. In fact, I like the larger size because it offers more bling, can carry more scent in the form or a wrap and the rattles send out agitating sounds coho seem to key in on. Wiggle Warts and Brad's Wigglers are also popular casting plugs.
No matter what plug you use, control the depth by the speed of the reel. For this, a spinning reel along the lines of a Shimano Symetre 4000, spooled with P-Line's 12 pound CXX X-Tra Strong, works great. A large line capacity reel allows for heavier pound test which is important when controlling fish in shallow water where fish can run great distances. Put this setup on a G.Loomis STR1163-25, fast action 9'8" rod with a 6-12 pound test line rating and capable of working 3/8-1 1/2 ounces, or something similar, and you're set. Simply tie your plug directly to the mainline, attached by a duo lock snap swivel, and get to fishing.
Flipping Jigs
I've detailed my favorite coho float fishing jig setup before (see August 2014, STS), but this time we're talking about flat lined jig fishing. This is a casting presentation I'd done for steel head in fast moving water, but never in slow flowing, shallow water for coho, not until Mike Fenton showed me how he does it.
The setup is simple. Tie a 1/4 ounce jig directly to the mainline and you're good to go. The fact there are no swivels, leaders, floats or sinkers attached to the line makes for an exciting fight when you latch into a feisty silver. In the cold waters Fenton and I fished, an extra slow retrieve was what elicited strikes. But in warmer waters of the Pacific Northwest, a faster, twitching and jigging action works well. In fact, twitching jigs is quickly growing in popularity.
As with casting plugs, get the jig beyond the holding fish and bring it toward them. Twitch, or quickly lift the rod, reeling up the slack as you drop the rod tip. Most strikes come when the jig is dropping.
Since you're working directly with the jig, which sinks under its own weight, then controlling the depth at which you're fishing, is easy. Don't be afraid to let the jig hit the bottom, especially in shallow situations. Jigs will also work in deeper water where coho are suspended, but they need not fall all the way to the bottom.
Be sure to keep working the jig all the way to the end, for coho often follow them great distances before attacking. This is especially true in deeper water and sloughs. Then again, plop a jig into the middle of a school of holding coho and fish often attack in sudden aggression. Pink colored jigs on sturdy hooks are ideal.
Due to the lightweight nature of fishing bare jigs, a spinning setup is the way to go for most anglers. For reference, and what I use, a Shimano Stradic CI4 3000F spooled with 10 or 12 pound CXX X-Tra Strong is perfect for this approach, and can be attached to one or two rods. Early in the season for smaller coho or in any open water setting where structure isn't an issue, a G.Loomis IMX Twitching Rod, model 9000S, is a 7'6" setup that fishes 6-12 pound test. Another specialized jig twitching rod, one for bigger fish in heavier water where brush and downed trees come into play, is the IMX 931S. This heftier rod is 7'9" and is capable of holding 10-20 pound test line, yet it maintains sensitivity for fishing a light setup.Slinging Lures
Of all the casting approaches there are for coho, perhaps nothing is as versatile as tossing lures. Due to the size-range of lures on the market, and the speed at which different designs can be fished, there's not much water a lure can't be fished in. If fishing fast currents or deep holes, a 3/4 ounce to 1 ounce lure works well. In more shallow, slow moving water, downsize to a 3/8 ounce jig. Keep in mind, coho aren't shy of big lures, so the only reason I downsize to smaller presentations is to prevent hanging up on the bottom.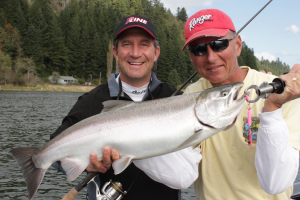 A favorite lure of most coho anglers is one that offers the most movement, specifically, skirted models. The Coho Bolo has been a standby for years, and the highly popular 1/2 ounce Flash-Glo Casting spinner with the squid skirt and large beads, is a favorite of many. Flash-Glo spinners come with a treble hook and a siwash hook, and are easy to change out in fisheries requiring a single hook. The original Rooster Tail is also tough to beat when it comes to coho, and the range of sizes, all the way up to 1 ounce, allow a lot of different water types to be covered.
As for lure color, start with pink and end with pink. Anything pink works best for coho. Invest in a variety of pink colors, from bright to light. Chartreuse and orange can also produce, but overall, pink is the go-to color wherever coho are fished.
When it comes to spinning rod setups, I like the Stradic 3000F reel on two different rod options. In small coastal streams the IMX 9000 Twitching rod is ideal, as the short length allows for accurate casting and hitting pocket water with more control. In bigger water and where heavier fish are targeted, the new IMX 1165S is a 9'8" rod capable of handling 8-17 pound test. I'll go with 12 to 15 pound test CXX, depending on the type of water and size of fish being sought.Drift Fishing
Drift fishing for coho is an approach that's fallen off in popularity in recent years, but it's still very effective. In drift fishing, target coho where you would steel head and chinook in rifles, chutes and faster flowing currents. The edges of seams are a great place to hit, as are the edges of eddies and swirls where coho often hold.
Cured eggs are a favorite bait for coho, but be sure and top them with a drift bobber. While many anglers think drift bobbers are strictly for adding color, the big benefit in coho fishing is their ability to float your bait. The added buoyancy will lift the bait off the bottom, allowing it to move around in the current. Not only does this added movement increase the amount of scent released from the cured eggs, it also increases the presentation's visibility.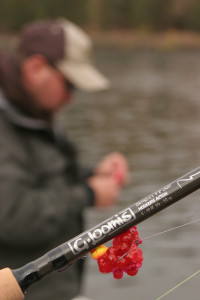 As with lures, pink is the go-to color in drift bobbers. Pink with silver flecks and different variations of pink are tough to beat. Lil' Corkies, Lil' Corky Clusters and Spin-N-Glos are all effective drift bobbers that, collectively, can be fished in many types of water. In fast water, stick with the Corky and Corky Cluster. Go to the Spin-N-Glo in slower moving water where the spinning action of this drift bobber really adds to the presentation's buoyancy and visibility.
As for drift fishing rod setups, I like a Curado 201HG bait casting reel spooled with 12 or 15 pound test P-Line CXX X-Tra strong. A G.Loomis IMX 1163, a 9'8" 6-12 test, moderate powered rod, is a good all-around choice, as well. In smaller streams, I'll use an 8'8" IMX 1043-2C with a 6-12 test line rating and fast action. These highly specialized rods aren't cheap, but the sensitivity, feel and power they offer make them the Cadillac of the rod world. If these are beyond your current budget, a rod with similar specs' will do.
This fall, get ready for what could be a banner year of coho fishing. Organize that gear, diversify with multiple setups and you'll be surprised at how each approach has a place, and how many more fish you'll put in the freezer.
Hope you found this article of value…..
Thanks for looking….. Good Luck!
​
​